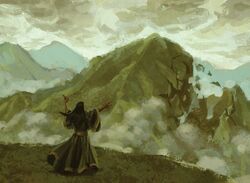 Tamori Ruya was a Earth shugenja-ko and Alchemist of the Dragon Clan. Ruya was shamed that two Dark Oracle of Fire came from the Tamori family and sought her family's redemption. [1]
Shinden Asahina
Edit
In 1193, in the Month of the Goat, Ruya and her apprentice Tamori Tomaru came to Shinden Asahina to speak with the Asahina Daimyo. After two weeks of waiting Asahina Keigo announced their audience had been granted, but only to an older monk, Asahina Shigemitsu. Ruya returned to the Asahina a tainted netsuke crafted by the infamous daimyo Asahina Keitaro in the Anvil of Despair. Eventually this event forged an alliance between both families, with small groups of Tamori and Asahina traveling the empire together. [2]
Colonies
Edit
In 1198 Ruya was wounded by a Mantis trap in his quest to find gaijin books of lore. He was crushed between two stone blocks. Her companion Mirumoto Kojinrue found the ruins of the Ivory Palace and returned with the books. [3]
External Links
Edit
References
Ad blocker interference detected!
Wikia is a free-to-use site that makes money from advertising. We have a modified experience for viewers using ad blockers

Wikia is not accessible if you've made further modifications. Remove the custom ad blocker rule(s) and the page will load as expected.