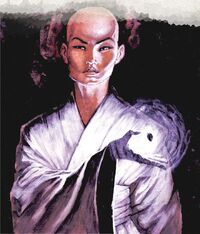 Tamori Noriko was an earth shugenja of the Dragon Clan.
Jade Championship
Edit
In 1169 Noriko was summoned by the Dragon Clan Champion Togashi Satsu and the Tamori Daimyo Tamori Shaitung to see Togashi Ieshige. The former Lion was the guard of the Jade Mirror, a powerful nemuranai that showed the truth on its reflection. Tamori Wotan, Noriko, and Tamori Shiki, saw their own mirrored image under the eyes of Ieshige. Noriko's image confirmed she was an artist. All of them had a worthy soul, and the shugenja were told they would compete in the Test of the Jade Champion. [1]
Noriko conceded defeat to Kuni Kiyoshi, leaving the Crab confused for that outcome. She knew that Kiyoshi was made of the stuff of mountains himself. [2]
External Links
Edit
References
Ad blocker interference detected!
Wikia is a free-to-use site that makes money from advertising. We have a modified experience for viewers using ad blockers

Wikia is not accessible if you've made further modifications. Remove the custom ad blocker rule(s) and the page will load as expected.