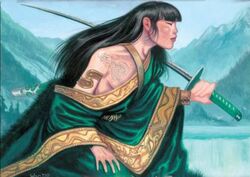 Tamori Katsumi was an earth shugenja of the Dragon Clan.
A Brother's Destiny
Edit
Katsumi was told by Mirumoto Yasushi that she would move to the Colonies as part of the entourage of Iweko Seiken, the Imperial Heir, who requested his expertise in alchemy. [1]
Coronation of Iweko II
Edit
In 1200 Katsumi was present at Imperial Court to celebrate Seiken's impending coronation as Iweko II and birthday. She told Kitsuki Kira, the Dragon delegate, that the spirit of Hitomi Reju was guiding the Emperor. [2]
External Links
Edit
References
Ad blocker interference detected!
Wikia is a free-to-use site that makes money from advertising. We have a modified experience for viewers using ad blockers

Wikia is not accessible if you've made further modifications. Remove the custom ad blocker rule(s) and the page will load as expected.