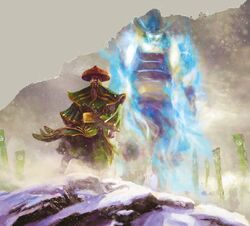 Tamori Daiishu was an earth shugenja of the Dragon Clan. He summoned earth spirits, such as the one known as the Mountainborn. [1]
Investigating the Kokujin
Edit
In the month of the Hare of 1200 Daishuu was in the Imperial City Toshi Ranbo to record the events leading to the coronation of Iweko Seiken. His friend Mirumoto Tsuda, now Emerald Champion, asked him to investigate the reappearance of Tattooed Monks who used the Kokujin family name. [2]
Rise of Jigoku
Edit
In 1200 Daiishu led a Dragon force which departed from Nanashi Mura heading for the ruins of Otosan Uchi. He has been tasked to divine the location of the Second Seal. No one knew what the Dragon knew of the Three Seals, not even the Phoenix. In the former Imperial City with his earth spirits he confronted Chuda Teraiko and her two hounds forged from stone and fire. It was unclear who won the day. The contenders had learned the location of the Second Seal was near Cold Wind City, and both sides managed to pass the message. The Second Seal was destroyed during the Battle of the Second Seal some weeks later. [3]
External Links
Edit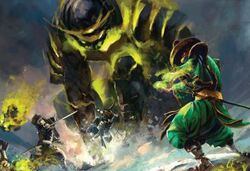 Sources Conflict
The sources relating to this article are in conflict with each other.
Tamori Daishuu in fiction "A Cold Wind" is most likely a typo of Tamori Daiishu --Oni no Pikachu (talk) 17:05, September 30, 2016 (UTC)
References
Ad blocker interference detected!
Wikia is a free-to-use site that makes money from advertising. We have a modified experience for viewers using ad blockers

Wikia is not accessible if you've made further modifications. Remove the custom ad blocker rule(s) and the page will load as expected.