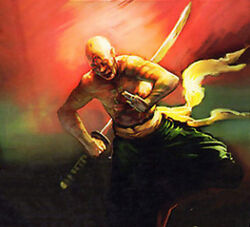 Tamori Aoki was an air shugenja of the Dragon Clan.
Aoki was considered a passionless, unemotional child, and this continued into his training in the Tamori temples. His lack of passion hampered his skills interacting with the kami. On the other hand, he possessed a keen, perceptive intellect, and kept extensive notes on his observations of others. [1]
Working with the Kitsuki
Edit
After his gempukku, Aoki was sent to a minor temple near Shiro Kitsuki. A quiet, low traffic shrine, this did give the young shugenja a chance to interact with various Kitsuki magistrates and investigators, who's skills and methods intrigued Aoki. When he learned that Tamori Shaitung had decided to send a number of shugenja to study alongside the Kitsuki, Aoki sent her a letter asking to be part of this, in one of the few passionate acts of his life. He had since become of the sensei's for the Followers of the Method, a school for shugenja's working alongside Kitsuki investigators. [1]
See also
Edit
External Links
Edit
References
Ad blocker interference detected!
Wikia is a free-to-use site that makes money from advertising. We have a modified experience for viewers using ad blockers

Wikia is not accessible if you've made further modifications. Remove the custom ad blocker rule(s) and the page will load as expected.