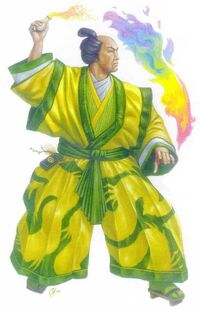 Tamori Alchemist picked up the legacy of the Agasha Alchemist after their defection to the Phoenix Clan.
Practices
Edit
The Tamori alchemists found many potent combat applications. They were a strange group, but welcomed into the ranks of the Mirumoto armies just as readily as any Tamori Yamabushi. For the most part they worked either in their temple laboratories, or in military barracks or even in the field as part of the Dragon Clan's armies. [1]
Known Tehcnique
Edit
References
↑ Prayers and Treasures, p. 17
Ad blocker interference detected!
Wikia is a free-to-use site that makes money from advertising. We have a modified experience for viewers using ad blockers

Wikia is not accessible if you've made further modifications. Remove the custom ad blocker rule(s) and the page will load as expected.