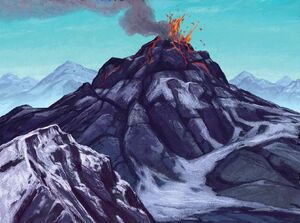 The Tamori's Furnace was a great chamber where the seething magma of the Wrath of the Kami volcano rolled and boiled under the surface of the mountain's apex. [1]
Destroying Nemuranai
Edit
In the furnace the Nemuranai Seekers brought the wayward artifacts of magical power they hunted. Nemuranai deemed too dangerous was destroyed in a ritual within the Furnace, the Tamori broke apart the physical vessel of the item and freed the corrupted, twisted, or enslaved and maddened kami that powered the artifact. In few instances a willing kami was bound permanently as a part of a mortal's soul. [1]
External Links
Edit
References
Ad blocker interference detected!
Wikia is a free-to-use site that makes money from advertising. We have a modified experience for viewers using ad blockers

Wikia is not accessible if you've made further modifications. Remove the custom ad blocker rule(s) and the page will load as expected.