Tamahime was a bushi ronin and a brilliant tactical mind who passed her knowledge as sensei.
Tamahime was daughter of Tamago and Utagawa, and bore the brilliance of her father and the patience and wisdom of her mother. [1] She was the charge of the ronin Yojimbo Riku. [2] Unknown to Tamahime was that her father had been known as Matsu Nimuro, the Lion Clan Champion, [3] and she had had a half-brother, the late Matsu Yoshino. [4]
Brilliant Mind
Edit
Tamahime displayed a brilliant tactical mind. [5] She was scarred in her left eye, but continued to show her battle prowess. [6]
Ruby Advisor
Edit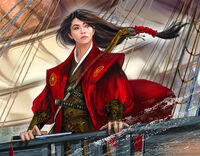 In 1200 Tamahime was appointed as advisor to the Ruby Champion [7] Tsuruchi Nobukatsu, and his emissary to the Colonies. [8]
External Links
Edit
References