Tamahime was a bushi ronin and a brilliant tactical mind who passed her knowledge as sensei.
Tamahime was daughter of Tamago and Utagawa, and bore the brilliance of her father and the patience and wisdom of her mother. [1] She was the charge of the ronin Yojimbo Riku. [2] Unknown to Tamahime was that her father had been known as Matsu Nimuro, the Lion Clan Champion, [3] and she had had a half-brother, the late Matsu Yoshino. [4]
Brilliant Mind
Edit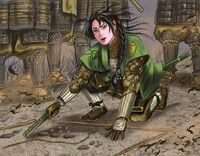 Tamahime displayed a brilliant tactical mind. [5] She was scarred in her left eye, but continued to show her battle prowess. [6]
Ruby Advisor
Edit
In 1200 Tamahime was appointed as advisor to the Ruby Champion [7] Tsuruchi Nobukatsu, and his emissary to the Colonies. [8]
External Links
Edit
References
Ad blocker interference detected!
Wikia is a free-to-use site that makes money from advertising. We have a modified experience for viewers using ad blockers

Wikia is not accessible if you've made further modifications. Remove the custom ad blocker rule(s) and the page will load as expected.