Talisman of Gaki-do was one of the Gifts of Ryoshun crafted by the Tenth Kami Ryoshun from the essence of Gaki-do. [1]
Abilities
Edit
A group of Gaki, twisted souls with eternal hungry, would answer the bearer's call and they followed his command. [2] The spirits of those duelists defeated by its wielder where trapped inside the talisman. [3]
Kakita Hideshi
Edit
It was first given to Kakita Hideshi in 1170, who Ryoshun found worthy of his blessing. He had to choose to be a follower for either the Voice of the Jade Sun or the Voice of the Obsidian Moon. The nemuranai would aid Hideshi during his service to the Voice. [1]
Known Bearers
Edit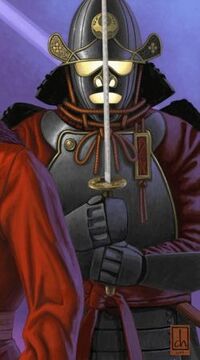 External Links
Edit
References