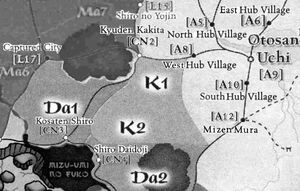 Takuetsu province (K1) was the northernmost of the Kakita provinces.
Takuetsu was bordered by the Lion Yojin province (Ma7) in the northwest, by the Kosaten province (Da1) in the west, by the Nanhan province (K2) in the south, being enveloped by Imperial lands in the north and east, leading towards Otosan Uchi. [1]
Holdings
Edit
Its most important holdings were Kyuden Kakita, the capital of the Kakita provinces, [1] the Kakita Plains, [2] the Osari Plains, [3] Shiro Iwasaki, [4] Tsuma, [5] and the Plain of the Crane. [6]
References
↑ Way of the Crane, p. 78
↑ Winter Court: Kyuden Kakita, p. 6
↑ Secrets of the Crane, p. 67
↑ Legend of the Five Rings; Fourth Edition, p. 340 and Map
↑ Legend of the Five Rings; Third Edition, page 321