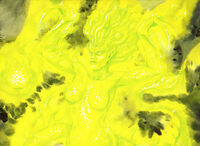 Taki-bi no Oni was the Elemental Terror of Fire.
Appearence
Edit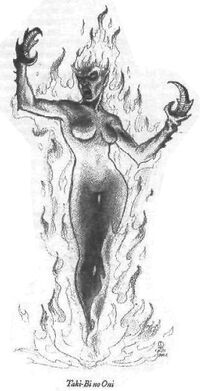 It would normally take the form of a human woman made of bright green fire. Beautiful, graceful, seductive, and fond of attractive men, Taki-bi was also blunt and straightforward. It enjoyed the destruction of anything in it's path, but relished the burning of temples, castles, forests, or artwork. [1]
Creation
Edit
In 1126 [2] the Terrors were created by the collaboration between all four Dark Oracles even an Oni of the Void, living in a dead volcano bear the Festering Pit known as the Womb of Terror. [3]
Attack to the Nezumi
Edit
This year the nezumi Crippled Bone Tribe were nearly destroyed by the Elemental Terrors. [2]
Gunsen of Water
Edit
In 1127 the Gunsen of Water was delivered to Bayushi Goshiu. It was an Elemental Nemuranai blessed by the Elemental Dragons, which had been crafted to restore the celestial balance broke with the creation of the Elemental Terrors. Taki-bi no Oni had been raiding caravans in its quest to find the gunsen. A group of samurai were visited by a disguised Oracle of Water, and Goshiu bestowed the gunsen to them. The nemuranai was returned after the group took care of the oni. [4]
See also
Edit
External Links
Edit
References
↑ Way of the Shadowlands, p. 120
↑ Way of the Shadowlands, p. 119
↑ Time of the Void, p. 40