Takao's Jingasa was the ever-present jingasa worn by Takao, the Master of Five and Head of the Brotherhood of Shinsei. After his death it remained in the possession of the Brotherhood, but it was rarely used by its members. The hat provided magical defense and a special connection with the void element. [1]
Appearance
Edit
Takao's Jingasa was made of long strands of straw, tightly woven together to form a wide cone, its rim descending to cover part of the wearer's eyes. [2]
External Links
Edit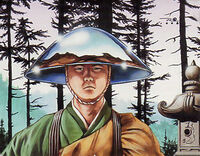 References
Ad blocker interference detected!
Wikia is a free-to-use site that makes money from advertising. We have a modified experience for viewers using ad blockers

Wikia is not accessible if you've made further modifications. Remove the custom ad blocker rule(s) and the page will load as expected.