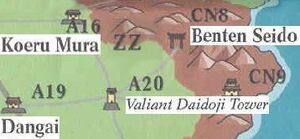 The Tall Grass Plain was once a rich farmland area, but it was abandoned in the early 12th century when its fields suddenly turned infertile. Afterward, a great forest of bamboo sprang up from the previously barren lands, baffling farmers and shugenja alike. [1]
References
↑ Legend of the Five Rings; Third Edition, p. 305
Ad blocker interference detected!
Wikia is a free-to-use site that makes money from advertising. We have a modified experience for viewers using ad blockers

Wikia is not accessible if you've made further modifications. Remove the custom ad blocker rule(s) and the page will load as expected.