Tabari was a Qabal Shadowmaster sahir.
Dawuud was his beloved half-brother. [1]
Tabari had a magical cloak, which allowed him to hide in the shadows. [1]
Prophecy
Edit
The Qabal Champion Hekau found one of the Bahiya, the Avatar of the Goddess Amru, but he was captured by the Senpet city guard. [2] [3] The Qabal took under their protection Amru to find the rest of the Avatars, that would trigger the ancient prophecy known as the Awakening. [4]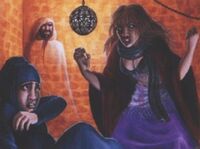 Amru was a small girl that had suffered a quick row of bizarre evenements, and she did not know the answers Zenaida eagerly sought. The Qabal woman was angry and questioned the Avatar furious and continuosly in the presence of a sad Tabari. He began to question his role in the tragedy. [5]
Celestial Alliance
Edit
Tabari became a member of the Celestial Alliance to stand beside Dawuud. [6]
Dawuud's death
Edit
In 1132 Dawuud was killed by Gathriq, a jinn of Kaleel's Legion just before the Awakening. [1] The killing was seeing by Tabari, and since that moment he swore to fight and unravel the Jinn Lord Kaleel. [7]
Tabari sought and found vengeance, killing the jinn with the Sayel Blade in the hidden tunnels beneath the Temple of the Black Stone, but died as well. Their corpses were found later by the Ebonites. Gathriq was the first jinn known dead by an human. Before it they were suposed immortal. [1]
External Links
Edit
Tabari (LBS - Secrets and Lies)
References
Ad blocker interference detected!
Wikia is a free-to-use site that makes money from advertising. We have a modified experience for viewers using ad blockers

Wikia is not accessible if you've made further modifications. Remove the custom ad blocker rule(s) and the page will load as expected.