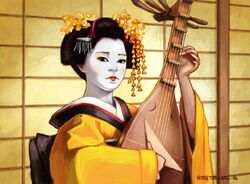 Suzune, the Coy, was an artisan and geisha who was known as the Sound of Bell. Despite her youth, Suzune fully understood the competitive and sometimes cruel nature of a geisha's life, and was determined to find a wealthy and powerful patron. Skilled with the biwa, she had composed many of her own songs and views her music as another potential route to fame and security. [1] Those secrets Harukaze gathered were written in her journal. [2]
External Links
Edit
References
Ad blocker interference detected!
Wikia is a free-to-use site that makes money from advertising. We have a modified experience for viewers using ad blockers

Wikia is not accessible if you've made further modifications. Remove the custom ad blocker rule(s) and the page will load as expected.