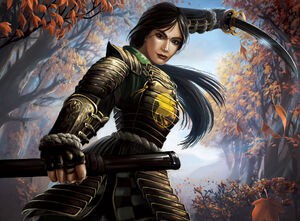 Suzume Shindo, the Final Blade, was a duelist of the Sparrow Clan who joined the Crane Clan.
Unique Style
Edit
Shindo was as a legend among the Minor Clans, an enigmatic duelist samurai-ko who allegedly practiced a unique style. She moved between courts traveling hid as a common folk, in a traveling cloak and a basket hat. [1]
Joining the Crane Clan
Edit
Shindo was appointed as ambassador of the Alliance of Minor Clans [2] to the Crane Clan, and eventually joined the Great Clan. [3]
External Links
Edit
References