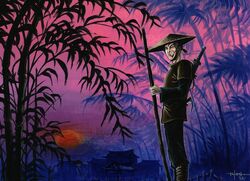 Suzume Roshi was a bushi of the Sparrow Clan.
Roshi was a Sparrow member of the Imperial Court under the Four Winds. [1]
Kolat Sleeper
Edit
He was supposedly a Kolat Sleeper Agent programmed with killing Hantei Naseru in 1159. When Yasuki Hachi uttered the trigger word "Musoka", Roshi erupted in a fit of rage, claiming that the Empire would be washed with blood before another Hantei sat on the throne. Roshi was knocked unconscious by a burly Seppun guardsman, and dragged from the room. [1] His exact fate was unknown, although his Clan Champion Suzume Yugoki later expressed to Usagi Ozaki his inability to understand why Roshi did what he did. [2]
External Links
Edit
References
Ad blocker interference detected!
Wikia is a free-to-use site that makes money from advertising. We have a modified experience for viewers using ad blockers

Wikia is not accessible if you've made further modifications. Remove the custom ad blocker rule(s) and the page will load as expected.