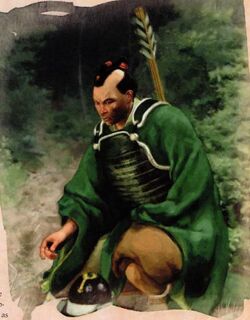 Suzume Keiji was a scout of the Sparrow Clan.
From an early age, Keiji demonstrated a knack for the natural world and an ability to move unseen. He trained as a scout and an archer, taught by an old Tsuruchi Master Bowman. Keiji became enraptured by the beauty of the Golden Sun Plains, skirting border patrols through secret paths and the boy used the Emperor's coveted lands as his own private park. Another scout finally caught him, and placed Keiji under his command, training him to become a skilled tracker and woodsman. [1]
Demeanor
Edit
Keiji was a shy and unassuming man, friendly but unsure of how to act around other people. In the Golden Sun Plains he transformed into a natural predator. [2]
See also
Edit
References