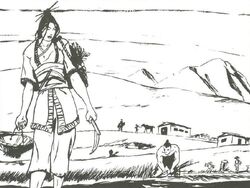 The Suzume Hills sat between the Lake of Cherry Blossom Snow, Golden Sun Plain, Bells of the Dead and the Three Man Alliance Plain. The area had no natural resorces, infertile terrain and unpredictable weather, and was the home of the Sparrow Clan. [1] A pass connected to the Crane lands, and another one to the Scorpion lands, which was usually blocked in winter. [2]
Landscape
Edit
This remote and stony place was deeply inhospitable, with swampy marshlands to the south and rocky dry soil to the north. With no gradual season-changes, the harsh winter was replaced by a summer that dried the soil until it was sandy and parched. The land wqas inhabited by bears, snakes, and other unpleasant creatures. There were only two real passes in and out of the valley, one to the north and one to the south. [3]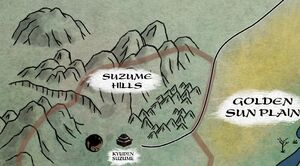 In 1121 the Scorpion Clan seized the Hills, but they were recovered after the combined army of the Sparrow, Wasp and Fox Clans defeated the invaders in the Battle of Three Man Alliance Plain. [4]
References
Ad blocker interference detected!
Wikia is a free-to-use site that makes money from advertising. We have a modified experience for viewers using ad blockers

Wikia is not accessible if you've made further modifications. Remove the custom ad blocker rule(s) and the page will load as expected.