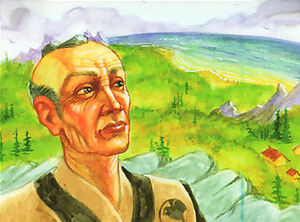 Students of the Suzume Bushi School were as nimble with a blade as their Doji ancestors. [1]
Training
Edit
They turned their attention Inward, to the study of the Tao of Shinsei and the cultivating their own purity of spirit. [2] The school tought the Haragei, to be as the sparrow, to recognize danger by instinct. [3] Their training focused on meditation, observation, and clear thinking, being patient until knowing when to strike. They also incorporated the trademark weapon of the clan: the sling. [4]
Suzume Bushi Techniques
Edit
Known sensei
Edit
See also
Edit
References
Ad blocker interference detected!
Wikia is a free-to-use site that makes money from advertising. We have a modified experience for viewers using ad blockers

Wikia is not accessible if you've made further modifications. Remove the custom ad blocker rule(s) and the page will load as expected.