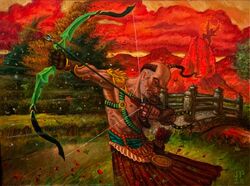 Summoning the Gale was a Mastery 3 (Defense) [1] Air spell which deflected missile attacks. It was created by an Isawa Shugenja who saw his brother shot down by Lion archers at the Battle of the Valley of Two Generals. [2]
External Links
Edit
References
Ad blocker interference detected!
Wikia is a free-to-use site that makes money from advertising. We have a modified experience for viewers using ad blockers

Wikia is not accessible if you've made further modifications. Remove the custom ad blocker rule(s) and the page will load as expected.