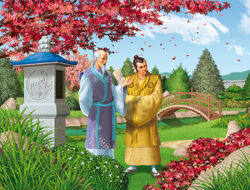 The term Summer Court was given to the Winter Court of the Colonies, rescheduled in the season when the weather made significant work and war nearly impossible, the summer. [1]
Creation
Edit
In 1178 Ide Toshiro proposed to hold court time in summer, which was granted by Empress Iweko I. The first Summer Court was held in the Second City in 1179. [2]
Reformed
Edit
In 1182 the newly appointred Imperial Governor of the Colonies Ikoma Katsuru reformed the Summer Courts. Activities would take place in the morning, followed by a break of several hours during the hottest part of the day. Official activities would resume in the evening and carried on until an hour or two after midnight. Samurai were allowed to wear lighter summer-weight kimono. [2]
Reformed Again
Edit
In 1198 the new Governor Otomo Suikihime further relaxed the standards of fashion, some said to scandalous levels. Tthe activities in her Summer Court would begin when the sun sets and end soon after it rises. [2]
Political Outmanouvering
Edit
In 1199 Iweko Seiken arrived to the Second City. The conflict between the Imperial Heir and the Imperial Governor continued to complicate matters there, and as a result, the Crane began to conspire to move the Colonial Court to their city at Twin Forks. [3] Doji Dainagon and her apprentice, Doji Natsuyo, made compelling and passionate arguments to move the Colonial Court, [4] but they were outmanouvered by the Scorpion Clan. [5]
External Links
Edit
References
Ad blocker interference detected!
Wikia is a free-to-use site that makes money from advertising. We have a modified experience for viewers using ad blockers

Wikia is not accessible if you've made further modifications. Remove the custom ad blocker rule(s) and the page will load as expected.