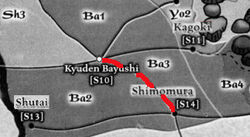 Summer's Kiss Road connected Kyuden Bayushi (S10) to Shimomura (S14). Even in the deepest blizzards, this road stayed clear of snow and frost. It was said that a benevolent Snow Maiden who lived in Shimomura and loved the Scorpion Clan Champion blessed this road so he could visit her. Another legend said that the Oracle of Fire walked this road when he came to Kyuden Bayushi seeking the solution to a question even he could not answer. A third legend spoke of a powerful Fire shugenja who died on this road, and friendly kami lingered there since. [1]
References
↑ Secrets of the Scorpion, p. 15
Ad blocker interference detected!
Wikia is a free-to-use site that makes money from advertising. We have a modified experience for viewers using ad blockers

Wikia is not accessible if you've made further modifications. Remove the custom ad blocker rule(s) and the page will load as expected.