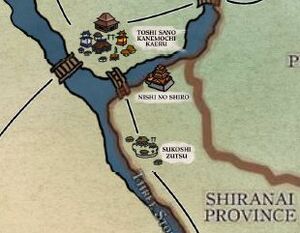 Sukoshi Zutsu was a small village that lied between the City of the Rich Frog and the Lion stronghold at Shiranai Toshi. It changed its ownership between Unicorn and Lion as the near City of the Rich Frog changed. [1] After the War of the Rich Frog it became a military stronghold whose name was known across the Empire. [2]
War of the Rich Frog
Edit
In 1165 the Unicorn seized the village in his first attack to take Kaeru Toshi, in the War of the Rich Frog. [3] They began to reinforce the village with fortifications and converted the village in a supply base. It was about to become a major staging ground for the entire Unicorn army. In 1166 the insignificant place had become an important strategic point, [1] and the two armies clashed for its control. The Lion Clan Champion, Matsu Nimuro died in personal combat against the khan, Moto Chagatai [4] in the Battle of Sukoshi Zutsu. [5]
Unicorn Ownership
Edit
In the peace treaty the village ownership changed to the Unicorn Clan, and they would convert the village into a worthy stronghold of the Clan [6] within the Kaihi province, governed by a Moto military commander. The village was little more than support for the large Unicorn garrison stationed there. [7] The Crab sent Kaiu Engineers to fortify the village. [8]
References
Ad blocker interference detected!
Wikia is a free-to-use site that makes money from advertising. We have a modified experience for viewers using ad blockers

Wikia is not accessible if you've made further modifications. Remove the custom ad blocker rule(s) and the page will load as expected.