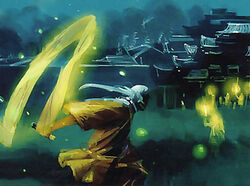 The Student of the Tao was a bushi who researched the Tao of Shinsei to unlock the inherent spiritual powers that laid within every person, his first steps on the road to enlightenment. With this new awareness of the world, he was able to perform kiho. [1] While their strict allegiance was to the Brotherhood of Shinsei, they stood beside their brothers, the Isawa, who also followed the teachings of Shinsei.
Known Techniques
Edit
See also
Edit
External Links
Edit
References
Ad blocker interference detected!
Wikia is a free-to-use site that makes money from advertising. We have a modified experience for viewers using ad blockers

Wikia is not accessible if you've made further modifications. Remove the custom ad blocker rule(s) and the page will load as expected.