Ad blocker interference detected!
Wikia is a free-to-use site that makes money from advertising. We have a modified experience for viewers using ad blockers

Wikia is not accessible if you've made further modifications. Remove the custom ad blocker rule(s) and the page will load as expected.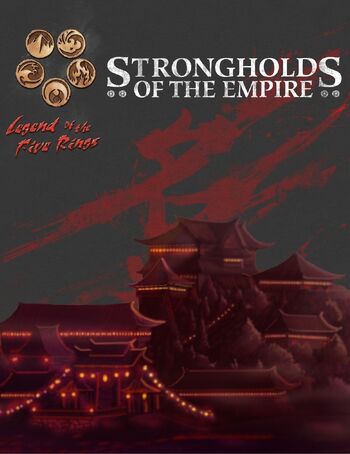 Strongholds of the Empire explores a handful of the many unique cities throughout Rokugan, seeking out those with particular interests for the different Great Clans. In addition to new mechanics for each of the clans as well as for each individual city. [1]
Artists: Steve Argyle, Drew Baker, Beet, Leonardo Borazio, Noah Bradley, Mike Capprotti, Miguel Coimbra, Conceptopolis, Ed Cox, Edwin David, Max Degen, Thomas Denmark, Gong Studios, Andrew Hepworth, Paul (Prof.) Herbert, Jeff Himmelman, David Horne, IFS, Veronica V. Jones, Wen Juinn, Jason Juta, Amandine LaBarre, Jeffrey Lai, April Lee, Rhonda Libby, Slawomir Maniak, David Martin, Dan Masso, Malcolm McClinton, Scott Neil, Ben Peck, Chris Pritchard, Marc Scheff, Bob Stevlic, Albert Tavira, Charles Urbach, Mario Wibisono, Brad Williams.
Introduction (Page 4)
Edit
Chapter One: Broken Wave City (Page 9)
Edit
History
City Denizens
Location Guide
Important Personages
New Game Mechanics
Chapter Two: Clear Water Village (Page 27)
Edit
History
City Denizens
Location Guide
Important Personages
Items of Note
New Game Mechanics
Chapter Three: Dark Edge Village (Page 47)
Edit
History
City Denizens
Location Guide
Important Personages
New Game Mechanics
Chapter Four: Nikesake (Page 63)
Edit
History
City Denizens
Location Guide
Important Personages
Items of Note
New Game Mechanics
Chapter Five: Otosan Uchi (Page 79)
Edit
History
City Denizens
Location Guide
Important Personages
New Game Mechanics
Chapter Six: Water Hammer City (Page 95)
Edit
History
City Denizens
Location Guide
Important Personages
New Game Mechanics
Chapter Seven: Toshi Ranbo (Page 111)
Edit
History
City Denizens
Location Guide
Important Personages
New Game Mechanics
Chapter Eight: Zakyo Toshi (Page 137)
Edit
History
City Denizens
Location Guide
Important Personages
New Game Mechanics
Appendix: Three Unaligned Settlements (Page 155)
Edit