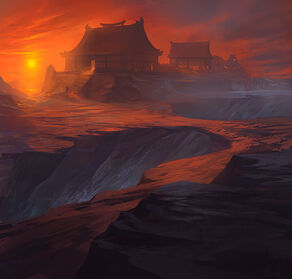 The Steel Soul Dojo was a holding of the Spider Clan. [1] It was begun in 1198, as a sign that the lands the Spider claimed after the Edict of Exploration was issued, would be for the Spider alone. [2]
Daigotsu Kanpeki used to train there and considered it home. Its area hosted a temple where tribute was paid to his parents, Daigotsu, the Master of Jigoku, and Shahai, the Dark Fortune of Blood. [3]
Ruhmalite Attack
Edit
When Kanpeki was confering with Moto Rani there in 1198, the premises were attacked by Ruhmalite cultists. Assassins tried to kill Rani, but the Spider Clan Champion saved her life. During the attack the dojo was set on fire, which surprised and enraged Kanpeki. [3]
External Links
Edit
References
Ad blocker interference detected!
Wikia is a free-to-use site that makes money from advertising. We have a modified experience for viewers using ad blockers

Wikia is not accessible if you've made further modifications. Remove the custom ad blocker rule(s) and the page will load as expected.