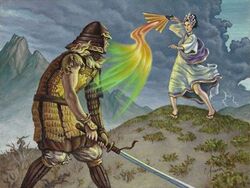 Stealing the Soul was a Mastery 4 maho fire spell [1] which allowed the caster to weaken another person's physical and mental abilities. This spell was most notoriously used in the assassination of the legendary Crab Clan Champion Hida Shonojo, weakening him enough to ensure the success of the attack. [2] [3]
External Links
Edit
References
Ad blocker interference detected!
Wikia is a free-to-use site that makes money from advertising. We have a modified experience for viewers using ad blockers

Wikia is not accessible if you've made further modifications. Remove the custom ad blocker rule(s) and the page will load as expected.