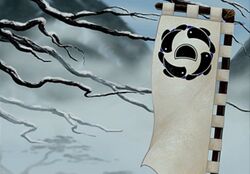 Standards were not only for quick identification in battle, but to inspire courage or fear. When a samurai saw nothing but his own colors, he felt bravery. When surrounded by enemy banners, he felt fear. They were only wore at battle, and dropping one was an extreme disgrace. [1]
Known Types
Edit
External Links
Edit
References
↑ Winter Court: Kyuden Kakita, p. 104
Ad blocker interference detected!
Wikia is a free-to-use site that makes money from advertising. We have a modified experience for viewers using ad blockers

Wikia is not accessible if you've made further modifications. Remove the custom ad blocker rule(s) and the page will load as expected.