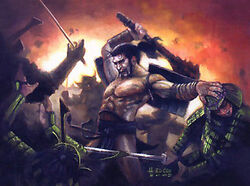 Stance of the Wall was a kata of the Crab Clan learned by the Hida Bushi and Hiruma Scout schools. This exercise focused the bushi's training on striking and defending from as many angles as possible from a single position. The bushi stepped from side to side during the kata, reflecting the movements of a crab or the defensive ability of a wall. [1]
External Links
Edit
References
↑ Legend of the Five Rings; Third Edition, p. 196
Ad blocker interference detected!
Wikia is a free-to-use site that makes money from advertising. We have a modified experience for viewers using ad blockers

Wikia is not accessible if you've made further modifications. Remove the custom ad blocker rule(s) and the page will load as expected.