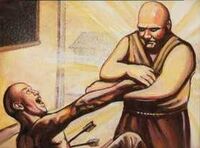 Stain upon the Soul was a Mastery 3 atemi martial air kiho [1] which was named for the stigma which many of the monastic orders assigned it. The kiho caused resonance between the air in the monk and their opponent, and after a successful atemi strike at their opponent it caused them excruciating pain in the nervecluster where the strike landed. Some considered it's use on oneself as an appropriate way of developing discipline. [2] [3]
External Links
Edit
References
↑ Legend of the Five Rings; Fourth Edition, p. 262
↑ Legend of the Five Rings; Third Edition, p. 254
↑ Way of Shinsei, p. 61
Ad blocker interference detected!
Wikia is a free-to-use site that makes money from advertising. We have a modified experience for viewers using ad blockers

Wikia is not accessible if you've made further modifications. Remove the custom ad blocker rule(s) and the page will load as expected.