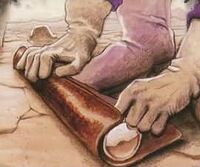 Spyglass was a rolled leather tube with glass lenses that made distant places appear closer. It could be unrolled and dismantled. [1]
It was an invention from the Burning Sands used by Unicorn scouts [2] and Mantis captains. [3] [4] The glass lenses were crafted at Medinaat al-Salaam. [5]
External Links
Edit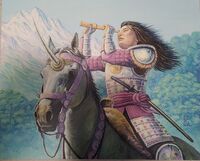 References
Ad blocker interference detected!
Wikia is a free-to-use site that makes money from advertising. We have a modified experience for viewers using ad blockers

Wikia is not accessible if you've made further modifications. Remove the custom ad blocker rule(s) and the page will load as expected.