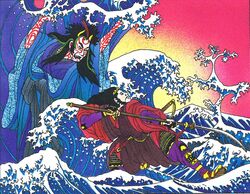 The Spirit of Water was a Mastery 7 mystical water kiho that was the prime example of the power of the mystical kiho. The kiho permitted a monk to merge with the spirits of water, stepping from one place in the mortal realm to another in an instant. Neither monks nor shugenja know where those who performed this kiho went to in the heartbeat before they re-appeared. For some reason, this kiho would only work if the person was out of view of any intelligent beings. [1] [2]
External Links
Edit
References
Ad blocker interference detected!
Wikia is a free-to-use site that makes money from advertising. We have a modified experience for viewers using ad blockers

Wikia is not accessible if you've made further modifications. Remove the custom ad blocker rule(s) and the page will load as expected.