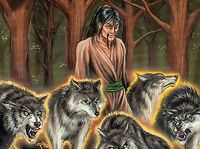 Spirit Hounds were the spirits of dogs that died in battle while alongside a master who found himself in Toshigoku, the Realm of Slaughter. [1]
Appearance
Edit
Spirit Hounds appeared to be huge dogs of dull silver color, and their eyes glowed a pale blue and gleamed with terrible intelligence. They did not understood commands given to them by anyone not also dwelling in Toshigoku. Spirit Hounds attacked in packs, surrounding an enemy and using hit and run strikes. [1]
External Links
Edit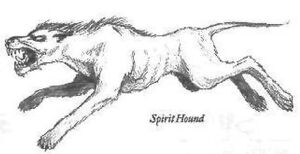 References
Ad blocker interference detected!
Wikia is a free-to-use site that makes money from advertising. We have a modified experience for viewers using ad blockers

Wikia is not accessible if you've made further modifications. Remove the custom ad blocker rule(s) and the page will load as expected.