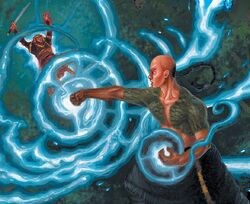 Spin the Kharmic Wheel, one of the most powerful Kiho known to exist, was a Mastery 8 atemi kharmic void kiho that allowed the Monk to harness the forces of destiny after a successful unarmed attack, [1] fundamentally rewriting another person's kharma. The monk who triggered this change had no control over what might result and monks who used it could questioned by his abbot afterward to determine if it was truly justified. [2]
External Links
Edit
References
Ad blocker interference detected!
Wikia is a free-to-use site that makes money from advertising. We have a modified experience for viewers using ad blockers

Wikia is not accessible if you've made further modifications. Remove the custom ad blocker rule(s) and the page will load as expected.