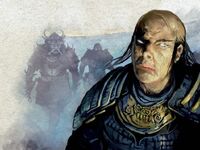 The Spider Heavy Elite were the most seasoned warriors of the Spider Clan.
The applicant were not allowed to have adverse mental or physical effects from the Taint. To maintain the clan's façade and to prevent the acceleration of the Taint they were taught to use their supernatural abilities sparingly and only when necessary. [1]
In battle they were deployed behind an opening rank of Spider Regulars allowing to approach unmolested. They were also deployed against heavily entrenched foes under cover of archer fire. [1]
The Spider Heavy Elite made up the Second, Third, Fourth, and Fifth Legions of the Spider Clan Army. [1]
Technique
Edit
The Elite used the Spider's Deadly Caress technique, which increased their battle abilities even while wearing a heavy armor. [1]
External Links
Edit
References