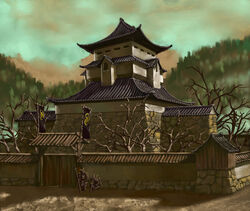 The Spider's Lair was the first location the Spider Clan could call home. It was founded in 1169 somewhere in the Shinomen Mori, within the Shadowlands Marshes of Shinomen. [1]
Location
Edit
Daigotsu decided the Marshes would be the place to built his new capital after a meeting with Michio, who explained him its history. [2]
Capital shifted to Ruined City
Edit
In 1170 the Spider capital was shifted to the Ruined City, shortly before the Night of the Spider. [3]
Buildings
Edit
The castle, also known as Hidden Lair, was considered a temporary location while Spider Clan agents scoured the Empire for other similar locations that might have closer targets. It had compound of temples, devoted to Fu Leng, tended by the Chuda family. [4]
Notable Buildings
Edit
External Links
Edit
References
Ad blocker interference detected!
Wikia is a free-to-use site that makes money from advertising. We have a modified experience for viewers using ad blockers

Wikia is not accessible if you've made further modifications. Remove the custom ad blocker rule(s) and the page will load as expected.