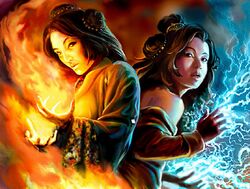 Souls in Harmony was a Dragon Battlefield Formation consisting entirely of shugenja, half of them on the front to engage the enemy bushi while the other half use their magic to strike down enemies from range. [1]
External Links
Edit
References
Ad blocker interference detected!
Wikia is a free-to-use site that makes money from advertising. We have a modified experience for viewers using ad blockers

Wikia is not accessible if you've made further modifications. Remove the custom ad blocker rule(s) and the page will load as expected.