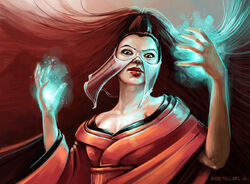 Soshi Yorimi was an Air shugenja and courtier of the Scorpion Clan.
Winter Couret - 1199
Edit
In 1199 Yorimi was one of the attendants of the Imperial Winter Court at Toshi Ranbo. The monk Ifedayo, formerly known as Bayushi Darisu, uncovered a traitor, the courier of the Scorpion Embassy Todoke. Under torture the courier told he had been blackmailed, forced by those who threatened his family. Yorimi used her magical gifts to confirm his words, and a guard ended the suffering of Todoke. [1]
External Links
Edit
References
Ad blocker interference detected!
Wikia is a free-to-use site that makes money from advertising. We have a modified experience for viewers using ad blockers

Wikia is not accessible if you've made further modifications. Remove the custom ad blocker rule(s) and the page will load as expected.