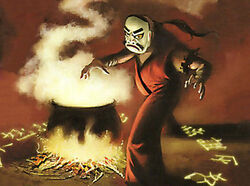 Soshi Ukon was a shugenja of the Scorpion who worked under the command of Soshi Uidori. The Soshi Daimyo considered Ukon a wretched creature, but very useful. [1]
Divination
Edit
Ukon used kawaru tiles in his missions, which allowed him to get insight of items and locations during his missions. [2]
The new Soshi Daimyo, Soshi Yukimi, sent him alongside the Shosuro Daimyo, Shosuro Toson, to find a suitable location for a new temple. He found it south of the mountains a day's travel from Shamate Pass. The tiles told Ukon that a great temple stood there once, destroyed by a Lion warlord during the period the Scorpion Clan was exiled across the Burning Sands. The warlord died longing for the Scorpion to attempt to take vengeance against him, and gave him the excuse he desired to launch a righteous war against the Scorpion. [2] The place was known as Shinden Gyokei. [3]
Crane play
Edit
A rather provocative play was written by a Crane playwright condemning the Lion for their role in its destruction, and the alleged deaths of several monks who refused to abandon their duties despite the Lion's destructive intent. Rebuilding the temple would likely cause friction between the Lion and Crane. [2]
External Links
Edit
References
Ad blocker interference detected!
Wikia is a free-to-use site that makes money from advertising. We have a modified experience for viewers using ad blockers

Wikia is not accessible if you've made further modifications. Remove the custom ad blocker rule(s) and the page will load as expected.