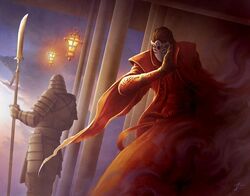 Soshi Shuuko was a Ninja Shugenja of the Scorpion Clan and member of the secretive Kuroiban.
Kuroiban
Edit
Shuuko was a talented and clever shugenja, and became a member of the Kuroiban. He worked together with Yogo Rieko in several missions. [1]
Jade Championship
Edit
In 1169 Soshi Uidori, the Soshi Daimyo, summoned him alongside Rieko, Shosuro Atesharu, and Soshi Yukimi. After the Emerald Championship was won by Shosuro Jimen the Test of the Jade Champion had been called. Atesharu believed Jimen brought undue attention to Scorpion with his foolish gesture, so taking another post would draw more attention to themselves. Shuuko retorted him, and Atesharu was at odds with Shuuko for it. Both went to the contest, as Rieko and Yukimi did. [1] Shuuko lost to Kuni Daigo prior to the final round, which was lost by Rieko. [2]
External Links
Edit
References
Ad blocker interference detected!
Wikia is a free-to-use site that makes money from advertising. We have a modified experience for viewers using ad blockers

Wikia is not accessible if you've made further modifications. Remove the custom ad blocker rule(s) and the page will load as expected.