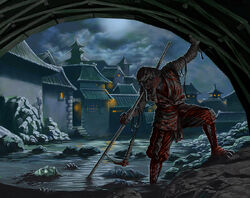 Soshi Kodanshi was a ninja of the Scorpion Clan.
Kodanshi was entrusted with the mission to find the place where the Shadow Dragon had taken residence. His lord Bayushi Nitoshi was seeking to meet the master of the Ninube and Goju. In 1198 Kodanshi fought a minion of the corrupted Dragon in hopes to suffuse him for questioning. [1]
Shadow Dragon
Edit
Shosuro Nobu and Soshi Kodanshi joined Shosuro Hawado in the Colonies, with the mission to take prisoner one of the minions of the Shadow Dragon, as it seemed it was not possible in the Empire. Their lord wished to reveal the Spider's treason to the Empress and expose their alliance with the Shadow Dragon and the remnants of the Lying Darkness. This information must be held until the Scorpion were certain the Spider could not disavow or deny the connection. During a fight with several Goju the corrupted Dragon appeared itself, and bargained with Hawado to exchange information through a meeting with the Shadow Dragon's commander. [2]
Spying the Crab
Edit
Kodanshi was reassigned to a low priority duty by Bayushi Makubesu, to spy on their Crab allies alongside Yogo Ugimori. [3]
External Links
Edit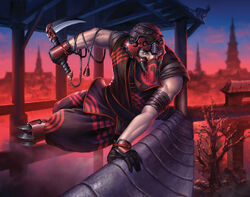 References
Ad blocker interference detected!
Wikia is a free-to-use site that makes money from advertising. We have a modified experience for viewers using ad blockers

Wikia is not accessible if you've made further modifications. Remove the custom ad blocker rule(s) and the page will load as expected.