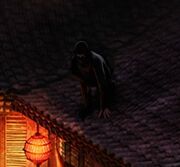 Soshi Iaike was a ninja of the Scorpion Clan.
Iaike was a student of Bayushi Muhito. They investigated the called "Spider Clan", and had been on the trail of two ronin. They ambushed Iaike who could not harm them. Muhito appeared and killed one of them with his crystal hilt. The second was tortured to tell all he knew about the Spider. [1]
External Links
Edit
References
Ad blocker interference detected!
Wikia is a free-to-use site that makes money from advertising. We have a modified experience for viewers using ad blockers

Wikia is not accessible if you've made further modifications. Remove the custom ad blocker rule(s) and the page will load as expected.