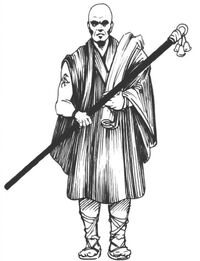 Soshi Genju was a shugenja of the Scorpion Clan who infiltrated other clans disguised as a monk.
Appearance
Edit
Genju was a wily, crafty, unscrupulous thug dressed as humble monk. His wakizashi remained hidden, with a hilt designed to conceal a scroll, and a red tinted blade which masked any poison placed on it. He displayed a Crow tattoo to indicate his allegiance to the Brotherhood of Shinsei, but it was actually a kage yakiin, a shadow-brand. [1]
Missions
Edit
Genju performed many missions, as spying a Crane, or revolting a Lion rice village. under the name of Shisuto he gave counsel to Shiba Kirume, while he hoped to draw into war. A Shosuro Actress serving as a minor assistant to Shiba Katsuda revealed herself to Genju and told about a plot to make confussion between Isawa and Shiba. After eight months nothing had happened yet. [1]
See also
Edit
Sources Conflict
The sources relating to this article are in conflict with each other.
Genju is also called Bento, which is considered a missprint. --Oni no Pikachu 10:32, May 2, 2012 (UTC)
References
Ad blocker interference detected!
Wikia is a free-to-use site that makes money from advertising. We have a modified experience for viewers using ad blockers

Wikia is not accessible if you've made further modifications. Remove the custom ad blocker rule(s) and the page will load as expected.