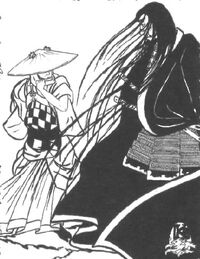 Soshi was the alter identity established by Shosuro in 42 after she faked her own death following the Day of Thunder. Once Shosuro's shadow powers were strong enough to be passed off as shugenja's, she altered her appearance to that of a man, took the name Soshi, and established the Soshi family. One of the two Scorpion Clans Shugenja families, focusing on Shadow magics. [1]
Together with Bayushi, "Soshi" built a secret fortress guarded by magic of the Shadow and established a network of spies and informants. Together with one of his most admirable students, Soshi developed the new style of magic he called "Shinobi", as well as the reputable shadow-brands. [2]
Shosuro's link to the Lying Darkness was too strong however, and she finally was lost to the Shadow. Shosuro fled the Scorpion Clan in 82, seeking the help of the Dragon Clan Champion Togashi. Togashi imprisoned her in the Chamber of Crystal deep beneath Kyuden Togashi. [3]
References
↑ Secrets of the Scorpion, p. 7
↑ Way of the Scorpion, p. 25
↑ Legend of the Five Rings; Third Edition, p. 10
Ad blocker interference detected!
Wikia is a free-to-use site that makes money from advertising. We have a modified experience for viewers using ad blockers

Wikia is not accessible if you've made further modifications. Remove the custom ad blocker rule(s) and the page will load as expected.