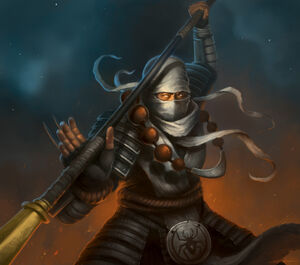 Sora was a monk kensai of the Spider Clan.
Kuchika was student to Omigawa, passing her on the knowledge he acquired from Yunmen. The monk was able to perform amazing feats such as jump into the air and hoover, only supported by the very air. [1]
War in the Empire
Edit
Sora was in charge of a small monastery just outside of the Shinomen Forest, when in 1200 her Lord Daigotsu Kanpeki embraced the gifts of Jigoku. Sora fought Kokujin Kuchika, a tainted monk who was gathering Kanpeki's followers to go into hiding. Her brothers defeated the assailants and fled. Kuchika was the only survivor, and put the monastery to the torch. [1]
External Links
Edit
References
Ad blocker interference detected!
Wikia is a free-to-use site that makes money from advertising. We have a modified experience for viewers using ad blockers

Wikia is not accessible if you've made further modifications. Remove the custom ad blocker rule(s) and the page will load as expected.