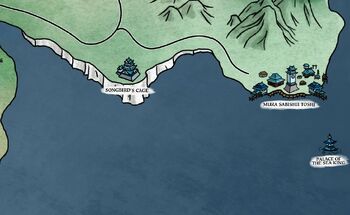 "Songbird's Cage" was the name given to the ancestral home of the Hiramichi family, a fortified keep on the foothills along the coast overlooking Mura Sabishii Toshi. [1]
Keep's Name
Edit
The name of the keep was given by the gifts given by Daidoji Michihira to his ring of smugglers shortly after the Foxfire War was concluded. Michihira had changed loyalties during the conflict, aiding the Daidoji Daimyo to wipe out his brother's followers. Michihira made one last voyage to visit all his contacts, giving each of them a bamboo cage filled with porcelain songbirds. He then visited the victorious daimyo Daidoji Kasami explaining his achievements and presenting her with a list of his underworld allies. She chartered Michihira with his own vassal family, the Hiramichi. To the smugglers, Hiramichi sent a message: "Has the caged bird not sung yet? Then you must be a loyal retainer." They took this blackmail as intended and swore allegiance to Hiramichi. [1]
Imperial Scrutiny
Edit
As the Hiramichi had a reputation as smugglers and performers of other shady dealings, the keep was frequently visited by Imperial inspectors, hoping to find some trace of criminal activity. Rumors circulated about tunnels under the keep leading to hidden caves and storehouses, but the family covert activities and wealth were spread among several safe houses in towns along the coast of Rokugan, far from their home. [1]
References
Ad blocker interference detected!
Wikia is a free-to-use site that makes money from advertising. We have a modified experience for viewers using ad blockers

Wikia is not accessible if you've made further modifications. Remove the custom ad blocker rule(s) and the page will load as expected.