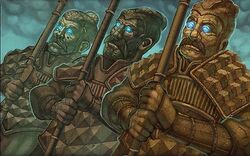 Soldiers of Clay, a powerful variation of Rise, Earth, was a Mastery 6 earth Craft, Battle and Jade spell solely found in the Phoenix libraries. The spell created ten human-sized warriors, forming them from earth and stone and animating them with the power of the Earth kami. The warriors would move, fight, and otherwise act as the caster commanded. It was most famously used by Isawa Tadaka and Isawa Sezaru in the 12th century. [1]
External Links
Edit
References
Ad blocker interference detected!
Wikia is a free-to-use site that makes money from advertising. We have a modified experience for viewers using ad blockers

Wikia is not accessible if you've made further modifications. Remove the custom ad blocker rule(s) and the page will load as expected.