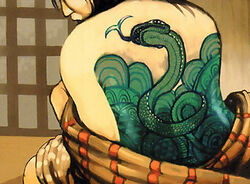 Snake tattoo was among the most dangerous and sinister of all ise zumi tattoos, and usually only manifested on those who have the strength of will to keep such power in check. After an unarmed attack that strikes bare flesh the target felt himself as if he had been afflicted with snake venom. Allowing a victim of this attack to die was grounds for being cast out of the tattooed orders. [1]
People known to have this Tattoo
Edit
External Links
Edit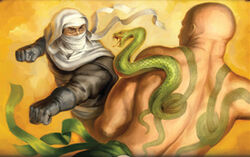 References
Ad blocker interference detected!
Wikia is a free-to-use site that makes money from advertising. We have a modified experience for viewers using ad blockers

Wikia is not accessible if you've made further modifications. Remove the custom ad blocker rule(s) and the page will load as expected.