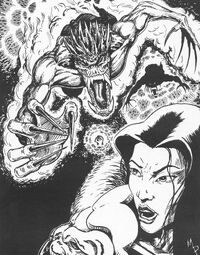 The Smoke Oni were a large cloud of black smoke made up of several small horrible images, each of them was the physical manifestation of an evil spirit. One of these Smoke Oni was bound to the Kuni Harike Temple by the Bog Hag Higashato. [1]
See also
Edit
References
↑ Lesser of Two Evils, pp. 18-19
Ad blocker interference detected!
Wikia is a free-to-use site that makes money from advertising. We have a modified experience for viewers using ad blockers

Wikia is not accessible if you've made further modifications. Remove the custom ad blocker rule(s) and the page will load as expected.